What is Soapstone?
This natural quarried stone is softer than most other naturally occurring minerals. Although it is soft, soapstone is a very dense and a non-porous stone; denser than marble, slate, limestone and even granite. Because soapstone is impenetrable, it will not stain, as liquid will not permeate the surface. Other stones, including granite, have a propensity to soil; this is why soapstone is widely used as chemistry laboratory tops and acid baths.Soapstone is quarried all over the world, with the largest supply coming from many different areas in Brazil and India as well as the only American quary, Alberene Soapstone of Virginia. The colors, movement and veining in soapstone vary depending on where the stone is quarried.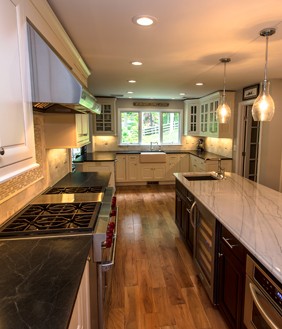 Soapstone is a Metamorphic Rock
Soapstone is a talc-schist type of metamorphic rock. It is composed mainly of talc, chlorite, dolomite, and magnetite. The talc content being the majority is what gives soapstone its soft and soapy feeling, hence it's name.

Steatite is another name used for soapstone but it commonly refers to the softer, higher talc content soapstone used for carving. The lower talc content soapstone is harder, thus suitable for structural applications. This soapstone was used in colonial New England for fireplace hearths, sinks, countertops, and wood stoves.

Soapstone in present time is widely used for kitchen and bathroom countertops, custom apron farm sinks, fireplace surrounds, masonary heaters, and floor tiles.
There Is A Lot of Talk About Soapstone Today – Here's Why
Soapstone is the fastest-growing all natural stone choice for counter tops, flooring, cookware and heaters in the United States today. While soapstone has been used for centuries in New England and outside of the US, demand for authentic soapstone counter tops and sinks is higher than ever, as consumers seek natural, environmentally friendly, maintenance-free, durable alternatives to synthetic, concrete and semi-natural products.

Garden State Soapstone ™ offers homeowners and design professionals the confidence of knowing their soapstone needs are being met by experienced professionals dedicated to complete client satisfaction and quality workmanship.

Thinking About A Granite Kitchen Counter Top?
Choose Soapstone Counter Tops Over Granite Counter Tops – Here's Why:

Soapstone counter tops are better than granite kitchen counter tops. When you weigh the advantages of soapstone over granite counter tops, the choice is natural. Consider the following benefits of Soapstone Counter Tops over marble, concrete and granite counter tops.
Soapstone Advantages over Granite Counter Tops & Other Natural Stone:
Quarried Naturally
Heat Safe
Will Not Harbor Bacteria
Non Porous
Will Not Stain
No Radon Emissions
Will Not Etch
Easy to Maintain
Easily Repaired if Scratched
Requires No Sealer
Natural Looking Honed Finish
---
Garden State Soapstone ™ offers premium grade soapstone available from several Brazilian quarries and "Alberene Soapstone" of Virginia. We offer a variety of soapstone, soft or hard. The harder soapstone will not scratch or chip.
While soapstone is softer than granite counter tops and other naturally occurring stones, it is denser (non-porous) than granite, marble, slate and limestone. Soapstone is impenetrable due to its density and will not stain. Other stone surfaces, even granite and marble, have a predisposition to soil.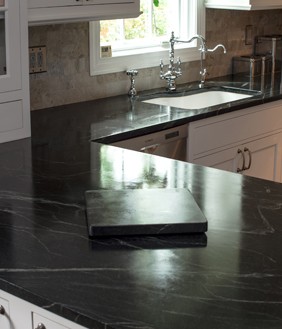 Because of its unparalleled thermal properties it is the perfect choice for pizza stone, cookware, oven floors, masonry heaters and fireplace liners. Soapstone when heated, slowly radiates the heat evenly for hours. For its durability, sanitary and heat-safe properties, soapstone continues to be widely used in chemistry laboratory counter tops, acid rooms and chemical baths and sinks.
While no counter top material is completely scratch resistant, soapstone is consumer friendly. If a scratch occurs on a soapstone surface, it is easily sanded out with 120 grit sandpaper. There is no need for professional repair or special equipment, as is necessary with granite kitchen counter tops. If scratches or stains occur on your granite kitchen counter tops, a professional will need to repair the damage with professional sanding and polishing equipment.
Soapstone has unique veining characteristics. Over time, Soapstone will naturally oxidize (patina), from it's original grey/blue color to dark charcoal/black. Applying a soapstone wax or soapstone oil will expedite this process. We carry many different varieties of soapstone with distinctively different shades and veining. We are confident you will find just the right choice for your kitchen counters.
Want to know more about soapstone counter tops and why you should choose them over granite kitchen counter tops? Just ask us.