Thinking About A Wood Countertop For Your Kitchen? Benefits of Wooden Countertops
Wooden countertops are a great alternative when designing a kitchen because of its many benefits. Our wood is protected with multiple top coats of Rubio Monocoat Oil, Oil Plus 2C, making for minimal maintenance. As with any wooden countertop, you must wash and disinfect it to keep it free of bacteria.
https://www.rubiomonocoatusa.com/blogs/blog/how-to-care-for-your-rubio-monocoat-finished-furniture
Rubio Monocoat Surface Care is the convenient ready-to-use version of Rubio Monocoat Universal Soap. Surface Care is to be used for general cleaning of Rubio Monocoat finished surfaces.  It can be used to remove local stains or stubborn marks. 
Aside from cleaning the wood counters, we recommend applying a top coat or wood oil periodically, Rubio Monocoat Renew . Rubio Monocoat Renew is a ready-to-use product that refreshes, restores and protects surfaces treated with Rubio Monocoat Oil Plus 2C. Renew should be used when the surface feels too dry or rough, or when the finish has worn down due to heavy use. When the color of the surface needs to be restored, we recommend a renovation with Rubio Monocoat Oil Plus 2C, using the corresponding color of the treated surface.
In addition, we offer adding Oil Plus 2C colors, https://www.rubiomonocoatusa.com/pages/oil-plus-2c-colors.
Any damage to one of our wood tops is easily repaired, as Rubion Monocoat is very consumer freindy. Usually you can do it yourself, with some simple directions. Our wood countertops are a unique alternative which will add warmth and charm to modern or alternative kitchen designs.
Also, we offer 100% Organic Wood Wax as an alternative for the finish.
Want to know more about wood countertops for your kitchen and why you should choose them? Just ask us.
Wood kitchen countertops are a warm alternative to natural stone.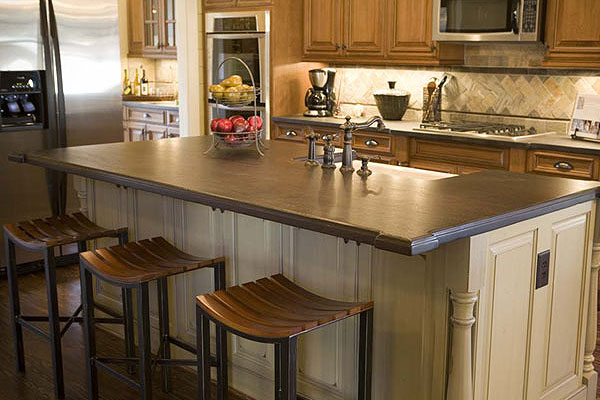 Wooden countertops create a unique and rich feel in any style kitchen.
We offer wood options including thickness
Our wood countertops for kitchens or bar areas are a beautiful option for any design. Our domestic wood collection consists of American Cherry, Black Walnut, Chestnut, Heart Pine, Hickory, Redwood, Red Oak, and White Oak.
Our exotic wood kitchen countertop collection consists of Monkey Pod, Teak, Mango, and Wenge.
Contact us to learn more about wood counters.
Some wooden countertops are more functional than others We install wood countertops for kitchens in the NJ, NY, Long Island, CT, PA, and DE area.
Using Wood for Kitchen Countertops
Bring your design dreams to life with fine solid wood countertops expertly hand-crafted to bring elegance, warmth and durability to any decor. Our wood countertops can be both decorative and functional. Butcher block or edge grain Maple with orgaanic oil finish countertops can be used for food preparation such as cutting and chopping. A kitchen island that serves as an alternate eating area or as a service station for entertaining is one example of how a decorative wood countertop can be used. Whether you are choosing an island countertop, a kitchen countertop, a bathroom countertop, a wet bar countertop or a cutting board / butcher block, we have the highest quality wood surfaces to meet your needs!
Contact us about installing wooden countertops in NJ, NY, CT, PA, and DE.
Wood countertops for kitchens can be both decorative and functional; some wood countertops are more functional than others.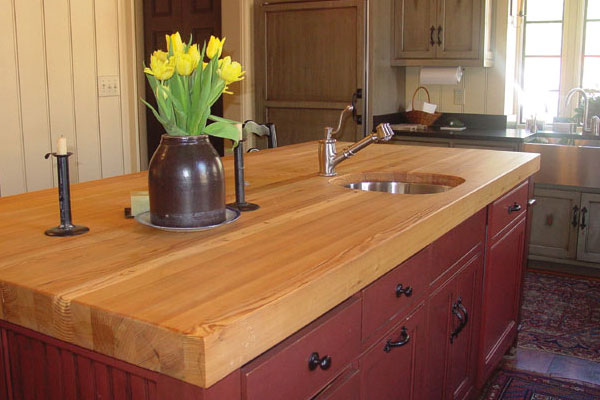 Maintenance for wood countertops is minimal.