Soapstone Countertops – Better Than Granite Countertops, or Concrete Countertops

"3 maintenance free ways of treating your soapstone."
Care: Soapstone countertops are non-porous and unlike marble countertops, concrete countertops and granite countertops, do not need to be sealed. The only maintenance for a soapstone countertop is the application of our Original Soapstone wax or oil to enhance the natural darkening process and ensure uniformity. Upon application of our wax or oil, the stone turns a mix of very dark charcoal gray, blackish or dark green tones.

Marble is susceptible to stains and etching, resulting in dull spots and rings.
Granite countertops are more resistant to scratches, but are sensitive to acidic foods, and require constant care and careful cleaning.
Concrete countertops are sensitive to heat and need to be waxed every 30 days to avoid staining.

Unlike marble and granite countertops, soapstone countertops are virtually heat proof – soapstone is often used to construct masonry heaters due to its excellent thermal qualities. A hot pan from the stove can be placed directly on the soapstone countertop without harm. Although the same is true for a granite countertop, for concrete countertops, the use of a trivet is always recommended. In addition, a concrete countertop is much more susceptible to staining than is soapstone.

Questions regarding soapstone countertops versus granite countertops, marble countertops or concrete countertops?
Our Countertop Installers Apply the First Treatment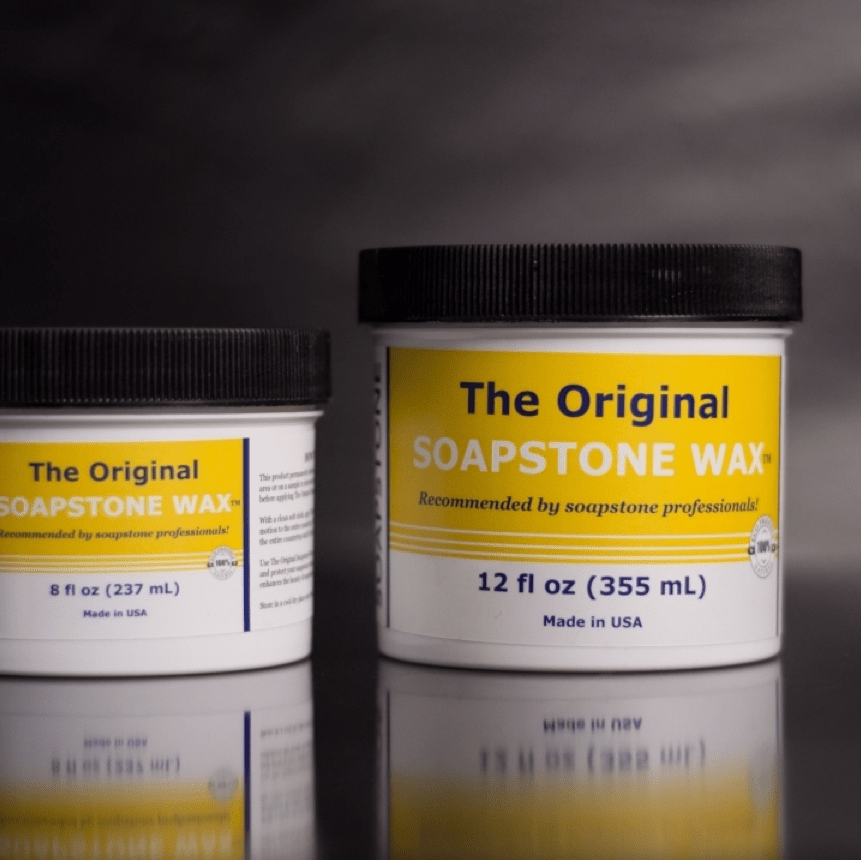 Soapstone Wax: Our countertop installers will apply our Soapstone Wax to quicken the natural darkening (aging) process of the stone. Our countertop installers use soapstone wax, " The Original ",as it enhances the  natural beauty and details of the stone. To keep this enhanced look, reapply our Soapstone Oil, "The Original"  as needed. There is no set rule on how often oiling should be done.

Cleaning:  To clean soapstone, simply use a damp cloth or sponge with a gentle soap cleanser. Dish soap is the best. For a deeper clean, any cleaner will work without harming the stone. Since soapstone is a naturally non pourous stone, it will not absorb any spilled liquids or food and is baterica free! If you clean the stone with antibacterial-type cleaners, no worries ! You may have reversed the patina slightly. Reapply our soapstone oil as needed.

The choice of soapstone over a granite, concrete or marble countertop is easy. Care and maintenance is simply a snap!!

Contact Garden State Soapstone ™ for installation in: N.J., N.Y., P.A., M.D. and C.T. today !!!
Restoration
Traditional soapstone countertops may and/or will get scratched, dinged, worn, and will age gracefully organically. If your soapstone countertop becomes worn, follow these easy restoration steps: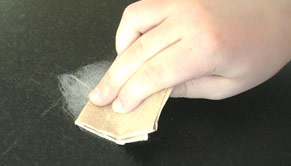 1. Most scratches will disappear with an application of our soapstone wax or oil. To permanently remove a deeper scratch, you may want to use 80 or 120-grit sandpaper (depending on the depth of the scratch.), sand the scratched area in a circular motion until the scratch is almost gone, then use 220-grit sandpaper and go back to 120-grit for final finish.
2. Once the scratch is sanded away, apply a light coat of soaspstone wax or oil to the area. Repeat the process as necessary – two or three times over the next 72 hours in order to match the coloration of the rest of the stone.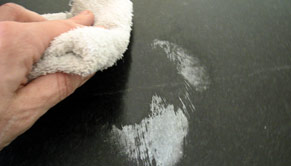 3. Treating your soapstone will increase the aging process, enhance the beauty of the soapstone, and restore that new look once again. Subsequent coats should be re-applied as needed.
Have a question about care & maintenance? Ask the experts.