Natural, Durable Brooklyn-Area Soapstone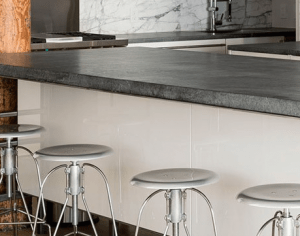 Looking for soapstone in the Brooklyn area?  Soapstone is the fastest-growing all natural choice for counter tops in the Brooklyn NYC area. Demand for authentic soapstone counter tops and sinks is higher than ever, as consumers seek natural, environmentally friendly, maintenance-free, durable alternatives to synthetic, concrete and semi-natural products. Soapstone is both soft and very dense. It is a non-porous stone; denser than marble, slate, limestone and even granite. Because soapstone is impenetrable, it will not stain, as liquid will not permeate the surface. This sets it apart from other stones, including granite, that have a propensity to soil. Soapstone is quarried all over the world, with the largest supply coming from many different areas in Brazil and India as well as the only American quarry, Alberene Soapstone of Virginia. Brooklyn soapstone countertops have several advantages.
Advantages of a Brooklyn Soapstone Kitchen Counter Top
Soapstone counter tops are far superior to marble, concrete and granite counter tops. When you weigh the advantages of soapstone over granite countertops, the choice is natural. Consider the following benefits of soapstone:
| | |
| --- | --- |
| | |
| | |
| | Easily Repaired if Scratched |
| | |
| | Natural Looking Honed Finish |
| | |
Garden State Soapstone ™ offers Brooklyn area customers premium grade soapstone available from several Brazilian quarries and "Alberene Soapstone" of Virginia. We offer a variety of soapstone, soft or hard. The harder soapstone will not scratch or chip.
For more information, about soapstone counter tops and why you should choose them over granite counter tops, contact Garden State Soapstone ™ today or visit our website:
Toll Free: 877 828 7770
Email: jay@gardenstatesoapstone.com
Soapstone Countertops Homepage