Natural Stone Tile: Soapstone and Slate
Natural stone tile can be used in a bathroom floor, kitchen floor, or as a backsplash. Tile can be used in a tub or sink, or used as a mosaic to add subtle designs anywhere in your home.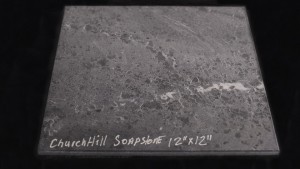 Despite the many uses and versatility, our customers are often faced with a tile dilemma: "What kind of tile is best?" "Where should I install the tile?" "Why is natural stone tile better than other kind of tile?"
Whether you're choosing slate or soapstone, 12″x12″s or mosaic, it's good to know all the facts.
Soapstone and Slate Tile: Thermal Properties and More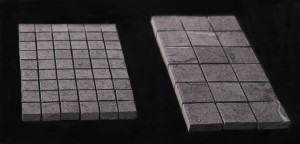 Natural stone tile is sustainable, beautiful, and timeless. Both soapstone and slate have heat and moisture resistant properties that impermeable to liquids. Furthermore, they have amazing thermal properties. If placing on a bathroom floor or near radiant heat, the tile will not be damaged.
In addition to their impervious nature, slate and soapstone tile do not need to be sealed, unlike other varieties of stone. They are stain resistant, and do not require harsh chemicals to clean them.
Because there is some movement in both soapstone and slate, with unique veining and coloring characteristics, it will allow a natural, eye catching design regardless of the size of tile. No two pieces are ever alike.
Sizes of Tile
When it comes to tile sizes, it depends on your space, your home, and what you want to bring to the room. Larger tile looks smooth and sleek, while mosaic tile can create eye-catching patterns.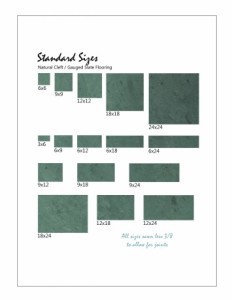 Slate tile comes in multiple sizes from 6″x6″ to 24″x24″ in square, and many more in rectangle (as small as 3″x6″).
Soapstone tile can be custom-cut to 1″x1″ mosaic, but we carry 2″x2″ up to 12″x12″. See more of our soapstone tile inventory.
Create your Tile Project with Garden State Soapstone ™
Create that subway pattern you've been thinking about, your beautiful mosaic backsplash that makes any kitchen stand out, and add value to your home. We'd love to be a part of your project!
Contact Us
Garden State Soapstone ™: Slate Tile
Garden State Soapstone ™: Soapstone Tile