Don't Forget the Details: 5 Soapstone Products We Recommend
During any renovation, it's easy to get caught up with the big picture. You finalize the layout, choose the materials, and even go back and forth between different edge details. But just because the installation is complete doesn't mean your kitchen is. The details come next – like some of the soapstone products that Garden State Soapstone ™ carries.
The details are what makes a house a home: the decorations, the touches of color, or the choice of hardware.
While there's no wrong or right decor, it's important that the details contribute to the overall feeling of the room. New cabinets, countertops, or tile flooring deserve to stand out, and the finishing touches have the ability to be a distraction if they're not done correctly.
Garden State Soapstone ™ has a few ideas to help.
Whether you have new soapstone countertops and want to highlight their unique tones, or you just want the tools to make your baking as great as your kitchen, here are five products we recommend:
Soapstone Baking Stones
Baking Stones: a new baking tool to complement your new kitchen. There is no better way to cook or grill than with a soapstone baking stone. Soapstone has amazing thermal properties allowing it to withstand hot or cold temperatures longer than other kinds of cookware products.
Using it with Pizza
Using soapstone will not only cut your cooking time by nearly half, but will also give your pizza a unique browning and crisping that cannot be achieved with other pizza-cooking methods.
Pizza Peels
Our pizza peels are made of the highest quality seasoned hardwood. The pizza peels are pointed on both sides as well as the point of the blade.
Our customers love using them with baking stones, but have also said that they have their own decorative use for pizza peels too. Try hanging them on the wall or reserving a special place on the counter. Available in 14" or 18" sizes.
Soapstone Whiskey Rocks
Not only a great conversation piece, soapstone whiskey rocks make delicious cocktails and chilled beverages.
Soapstone rocks, also known as "Whiskey Rocks", are great for maintaining temperature for any beverage. Due to the high density of the material, soapstone retains temperature better than other stones like granite or marble, so you can expect a sustained chill. Available in .75" or 1.13″.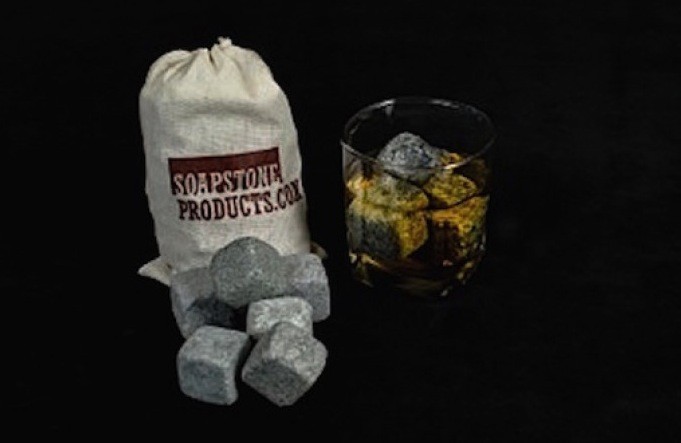 Soapstone and Recycled Glass Knobs
If you've been thinking about adding soapstone to your home, soapstone knobs are a great place to start. Or, if you already have soapstone anywhere in your home, these knobs help show it off.
We carry two types of knobs: glass mosaic, made from recycled glass bottles and jars, and soapstone. Environmentally sustainable home decor, these knobs are sure to complement and enhance the natural characteristics of your home.
Soapstone Sinks
It's not exactly a small detail, but a new soapstone sink can change the entire feel of your kitchen. Maybe your renovation is finished and it's the missing piece, or maybe you just want to shake things up a little.
Garden State Soapstone ™ can customize any soapstone sink, made just for your kitchen. From a single bowl to a hand carved round vessel, to a soapstone sink with a built-in countertop, there's nothing we can't do.
Learn more about Soapstone Products: www.gardenstatesoapstone.com/shop-soapstone
Or visit www.soapstoneproducts.com.