You've probably heard about new sustainable options for your home and how we should do more to protect the environment. The kitchen is an easy place to get started with all kinds of sustainable tools – from recycling to storage solutions. At Garden State Soapstone ™, our primary focus is the kitchen, and our natural stone products will help you reach a few of your environmental goals.
Replacing Everyday Products for a Sustainable Kitchen
Remember the first rule of conservation is reducing the amount of trash produced in the home. Start by cutting back on purchases with excessive packaging (you throw away most of the packaging). Then start replacing your disposable products with reusable ones.
Paper towels can be easily replaced by cloth towels, and we all have a few reusable grocery totes we could use. You'll even find many reusable alternatives for zip bags online. The hardest part is changing our habits to reach for these items instead of the usual disposable options.
Composting
You might want to add composting to your list as you investigate sustainable kitchen practices. Composting seems like a challenge (or a mess) at first, but it greatly reduces the trash in your home. And it's much easier to manage than you think! Throw in the leftovers from chopping vegetables or the paper plates from a barbecue, and you'll be on your way.
You can start small with a counter-top bin in your kitchen or go big with a pile outside. Once you get the hang of it, you'll be making your own nutritious soil for your planters and gardens.
Reducing Harsh Chemicals
Reducing harsh chemicals always sounds like a win-win, but many people can't imagine their home is really clean without anti-bacterial or bleach. However, simply changing to a single cleaner for your tasks reduces waste. Your home will have fewer bottles of various cleaning products in every cabinet. If you buy an all-purpose cleaner in a bulk size, you can reuse your own bottles throughout your home.
Fortunately, shopping for "cleaner" cleaners has become much easier over the past few years. Many brands carry plenty of natural scents and anti-bacterial power in everything from hand soap to window cleaner. Having a soapstone countertop helps keep your home clean, too…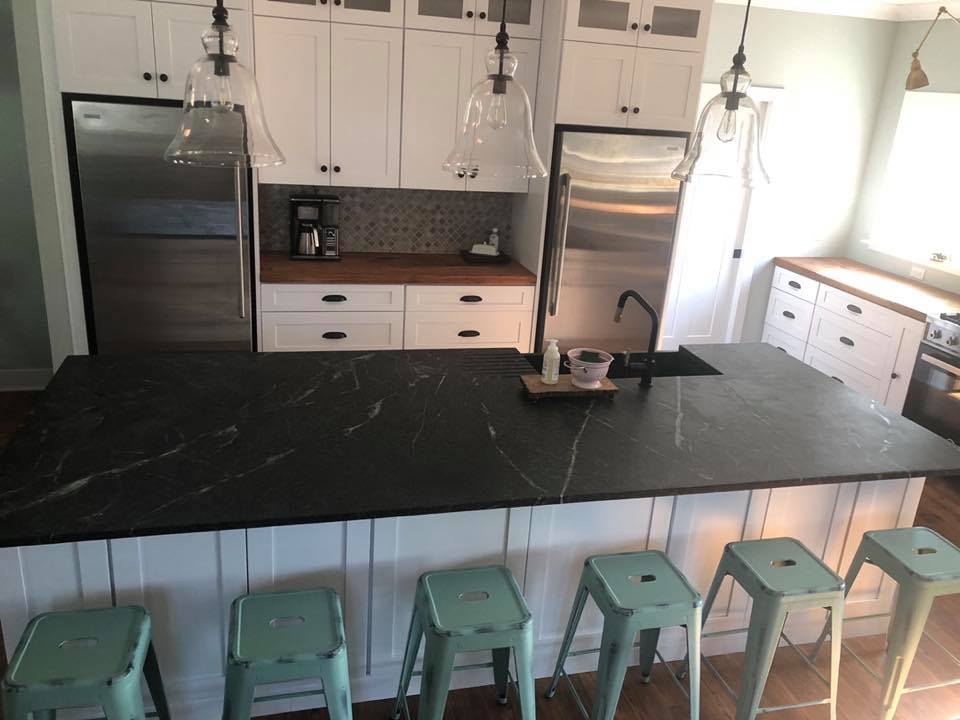 How Soapstone Contributes to a Sustainable Kitchen
Soapstone countertops helps you achieve your clean kitchen goals because of its naturally anti-bacterial properties. You don't need harsh sealants and chemicals to maintain the surface, because it's already non-porous. Regular cleaning only requires mild soap and water. Our soapstone oils and waxesare all-natural and made with completely food-safe ingredients. We also cut soapstone down into different shapes, including pizza stonesand whiskey rocks, so no piece goes to waste.
Soapstone countertops are meant to last. Because they age gracefully and look beautiful for years to come, many families will keep the countertop when renovating the kitchen (even more likely if you have a soapstone sink!). Of course, this cuts down on waste during renovation and helps lower emissions from production in the long-term.
We even source many of our soapstone slabs for fabrication from Virginia, which keeps transport emissions low. You can read more about sustainable soapstone in this post.
If you're looking for sustainable options for your kitchen renovation, call us at Garden State Soapstone ™ to install the perfect kitchen counter and sink.