All this time at home may have you looking to update your outdoor space. An outdoor kitchen lets you stay outside while entertaining guests or watching your kids play before dinner. Guests will be more likely to help out and start chopping veggies for the grill when you have a beautiful outdoor space, and of course, your house will stay cooler when all the cooking happens outside.
Natural stone looks the best for an outdoor kitchen, and soapstone or slate are our top choices. What makes them great in an indoor kitchen makes them even better outside!
Soapstone for Your Outdoor Kitchen
With its dark blacks, greys, and greens colors, soapstone will look right at home in your backyard space. The stone makes an upscale addition to your yard, while the easy maintenance helps you stay casual during food prep with friends and family.
Non-Porous, Non-Staining
What makes both soapstone and slate ideal for an outdoor kitchen is their non-porous surface that keeps them naturally anti-bacterial while preventing stains on all surfaces. This stain-free quality works well even during the autumn months, when you might be concerned about leaves and sticks staining the counter.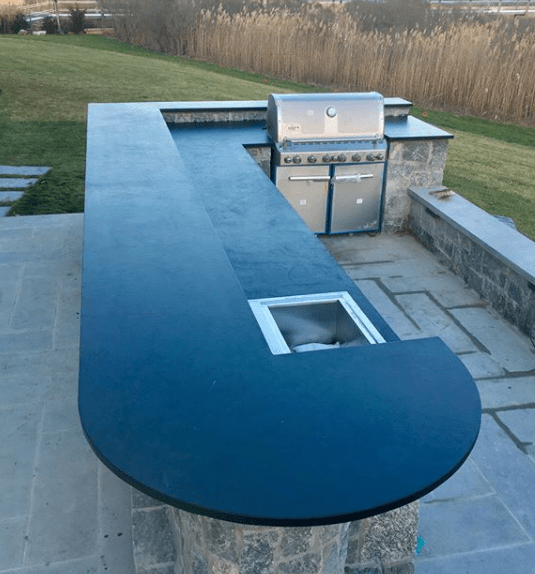 Soapstone makes a statement as an outdoor countertop or bar in any size.
Heat Resistant
Inside the home, you might have potholders and trivets easily accessible to protect a sensitive counter, but you don't want to worry about that when you're outside. Since both slate and soapstone are heat resistant, you can place grill tools and components directly on the countertop without concern.
Slate for Outdoor Countertops
Slate has the same non-porous, heat-resistant, anti-bacterial properties of soapstone with a subtle elegance due to its lack of veining.
Choose a High-Quality Slab
Slate has varying degrees of hardness based on the quality of the stone. When you buy from Garden State Soapstone, you can be sure we're providing you with the best quality slate for the use. The slate we choose not only looks great but has the highest level of durability, so you can enjoy it for years to come.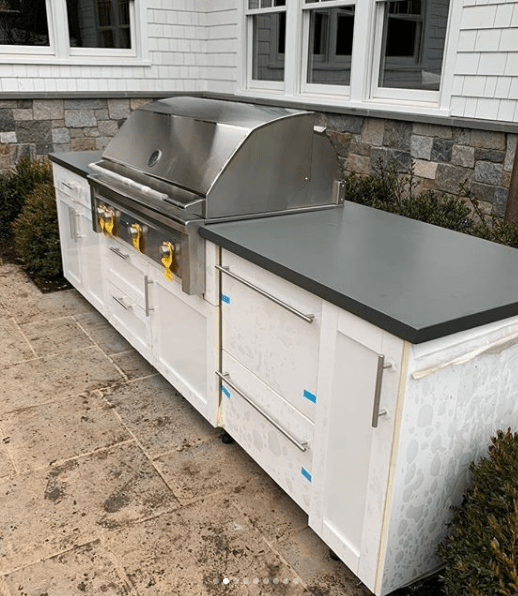 Garden State Soapstone provides high-quality slate slabs for outdoor kitchen use. 
Consider Slate Tiles
Homeowners often choose slate for tiling in their patio space, as well. The coordination between countertop and flooring creates a chic but understated look. Since slate has been used for outdoor tile for years, you know it will look great throughout the seasons with little to no maintenance.
Because soapstone and slate are dark colors, some users find they get warm in direct sunlight. While the color will not fade due to UV rays, you may consider building the kitchen under a pavilion or pergola to stay cool. You could also leave your soapstone untreated to make the grey a lighter color with natural aging patina over time.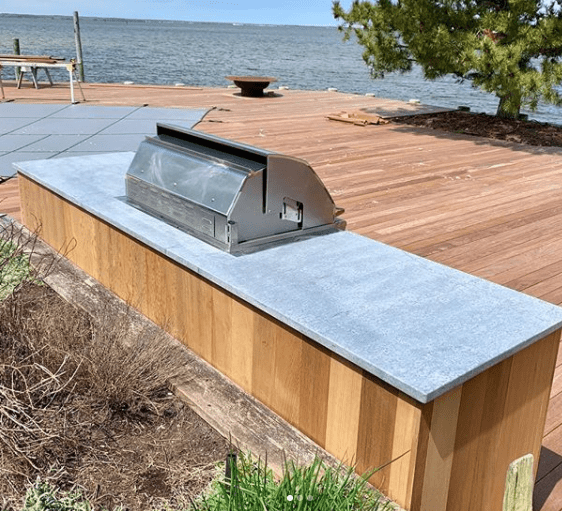 This waterfront soapstone counter was left untreated for a lighter color.
These surfaces are easy to clean with simple soap and water, and the high-quality stone can withstand the many seasons in New Jersey, New York, and Pennsylvania even without a protective covering. Connect with Garden State Soapstone today to get started planning the outdoor kitchen of your dreams.