If you think soapstone looks great in a kitchen, you'll love how it looks in your bathroom. Designers choose it for a simple, luxurious detail in the powder room, as well as statement features in a large master bath. Keep reading to find some inspiration for your next project!
Soapstone Vanity Countertop
The classic option for a bathroom is the soapstone vanity countertop. The characteristic soap-y texture makes it right at home in your bathroom, while the heat-resistant properties are ideal for resting curling irons and hair straighteners without fear of damage. This countertop detail can be the luxury element you need to create a spa-like bathroom.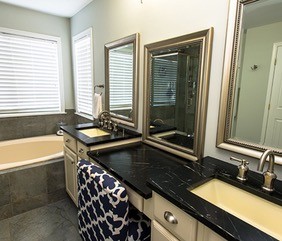 Floor Tile
Soapstone (and slate) tiles retain heat well, even without a heated floor system installed. The heat and steam from a shower will warm up the tiles, and even the natural sunlight from a window. If you choose to install a heated floor, these tiles will stay warmer longer than other tile options.
Custom Soapstone Showers
Because of the dark color, soapstone gives a modern look to a bathroom. However, the rustic hone style keeps the space warm and cozy.
Shower Pans
Since soapstone isn't polished, the honed texture ensures it isn't slippery when wet. The non-porous, anti-bacterial nature keeps it easy to disinfect without the use of harsh chemicals, and designers can easily incorporate a waterfall edge bench within the shower to coordinate.
Shower Threshold
Another popular shower option is a simple, contrasting threshold. This small element of soapstone keeps water in its place without being damaged by exposure and can be shaped to any bevel, raised, or flat pattern you love. Some homeowners choose a light-colored tile floor and delineate the shower with the dark threshold, usually coordinating with another feature in the bathroom.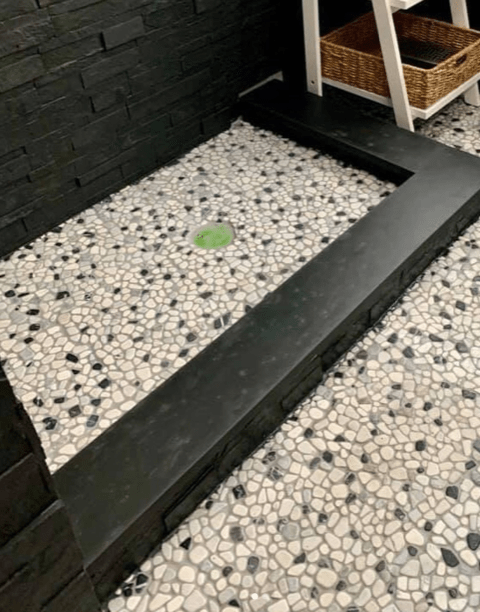 Other Natural Stone to Consider
Soapstone isn't your only upgraded tile option for the bathroom. Other natural stone such as slate or marble give the luxury you're looking for while offering similar reasons to love them.
Slate
Slate works equally well for tile and countertops in the bathroom due to similar heat-resistant and anti-bacterial properties. Designers and homeowners especially love slate tiles in the bathroom for use with radiant flooring, as it holds heat well and heats the space efficiently.
Marble
Marble has been a long-time favorite in bathrooms and serves as an excellent contrast for soapstone. Pair a marble countertop with slate or soapstone flooring for the classic black and white look that stands the test of time. However, because marble is naturally porous, you'll need to seal or polish the stone for use in your bathroom, and some homeowners reported the minerals in hard water might discolor the light stone when used as a shower floor.
Design Your Dream Bathroom
Create a stunning bathroom in any size with beautiful natural stone elements. Whether you chose soapstone, slate, or marble in your design, Garden State Soapstone provides high-quality slabs with the coloring and features you're picturing.