Soapstone sinks look beautiful in every setting, whether outdoors or indoors. They stand the test of time and will still function even if the house has been renovated many times. In fact, some old homes still have an original soapstone garden or laundry sink that has been with the house for generations.
Garden Sink
Since soapstone withstands the elements in any climate, it's a popular choice for outdoor garden sinks. Whether you need a shallow basin for cutting flowers in the garden or a large structure for an extensive garden, soapstone can be customized to meet your vision.
This image demonstrates the possibilities for a more utilitarian usage that can be left exposed outdoors all year round. Because of the durability, a soapstone sink withstands all types of gardening, from a few patio herbs to extensive landscaping pots and raised beds.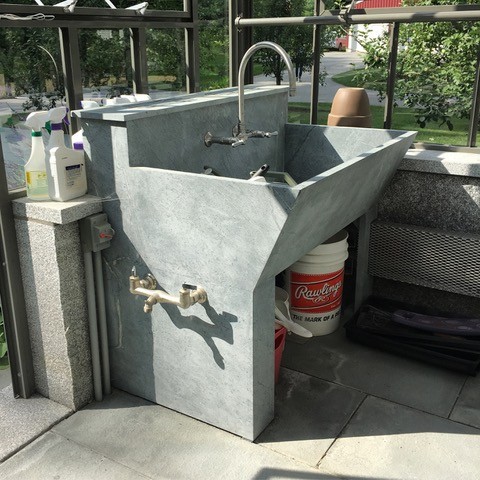 Source: Thinking Outside the Boxwood
Dog Wash Station
Because soapstone is easy to clean and maintain, it makes a great looking dog washing station! Instead of installing the standard stainless-steel option, choose beautiful soapstone, and we'll create the perfect tub for your pup. This version is looks great with a decorative high back and tall sides to protect the walls from any fur shaking.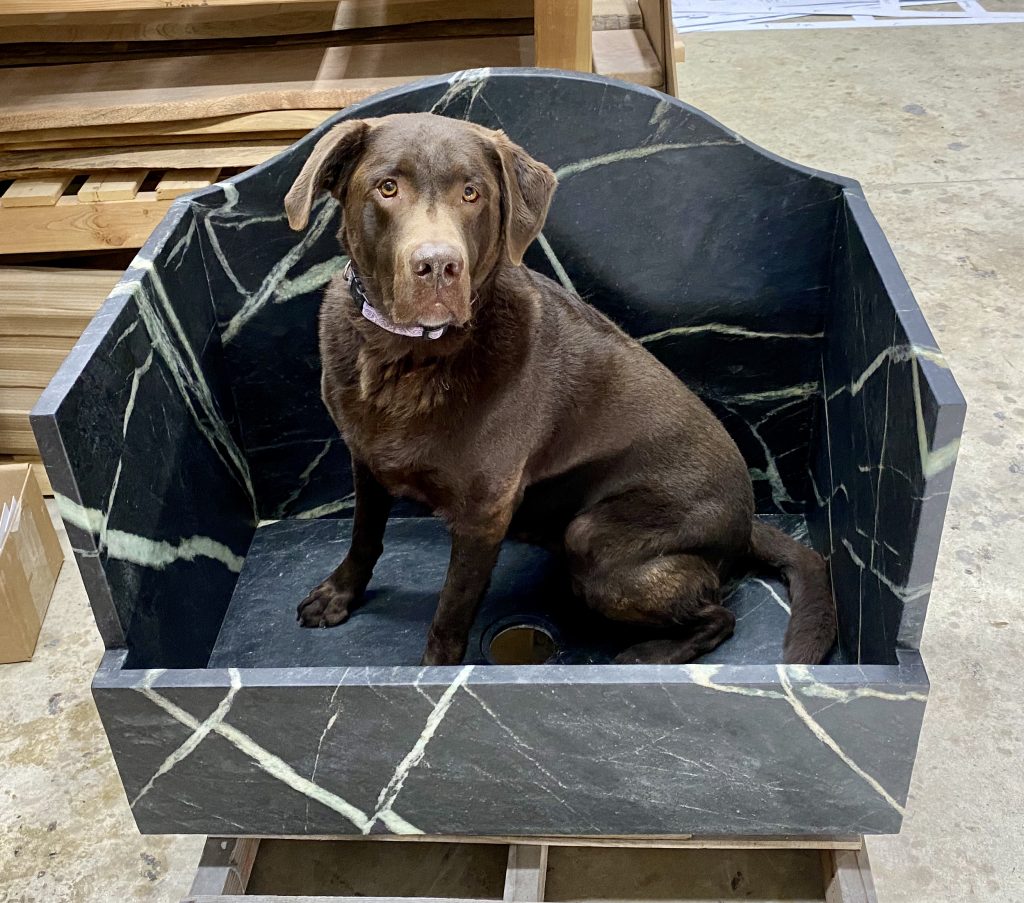 Bathroom
Custom soapstone sinks are becoming more and more popular each year. We love this farmhouse chic option using a smaller version of our apron-front sink in the bathroom instead of the kitchen.
This custom-carved block of slate makes a statement in the bathroom, too. Remember, a stone piece this large will most likely require a custom steel base for support, as well.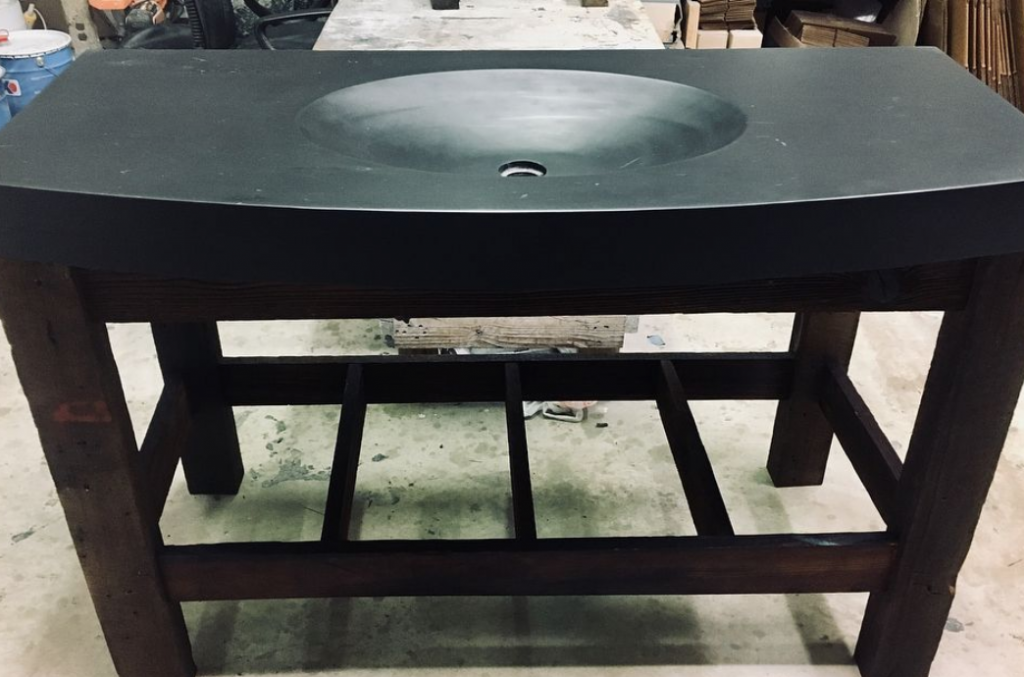 Kitchen
Soapstone sinks always look great in a kitchen! They can be completely customized to fit your space exactly, whether the dimensions you need or a specific style with carving and detailing. We have plenty of kitchen sink inspiration on our Instagram page, but the image below is a favorite because of the distinct apron front design.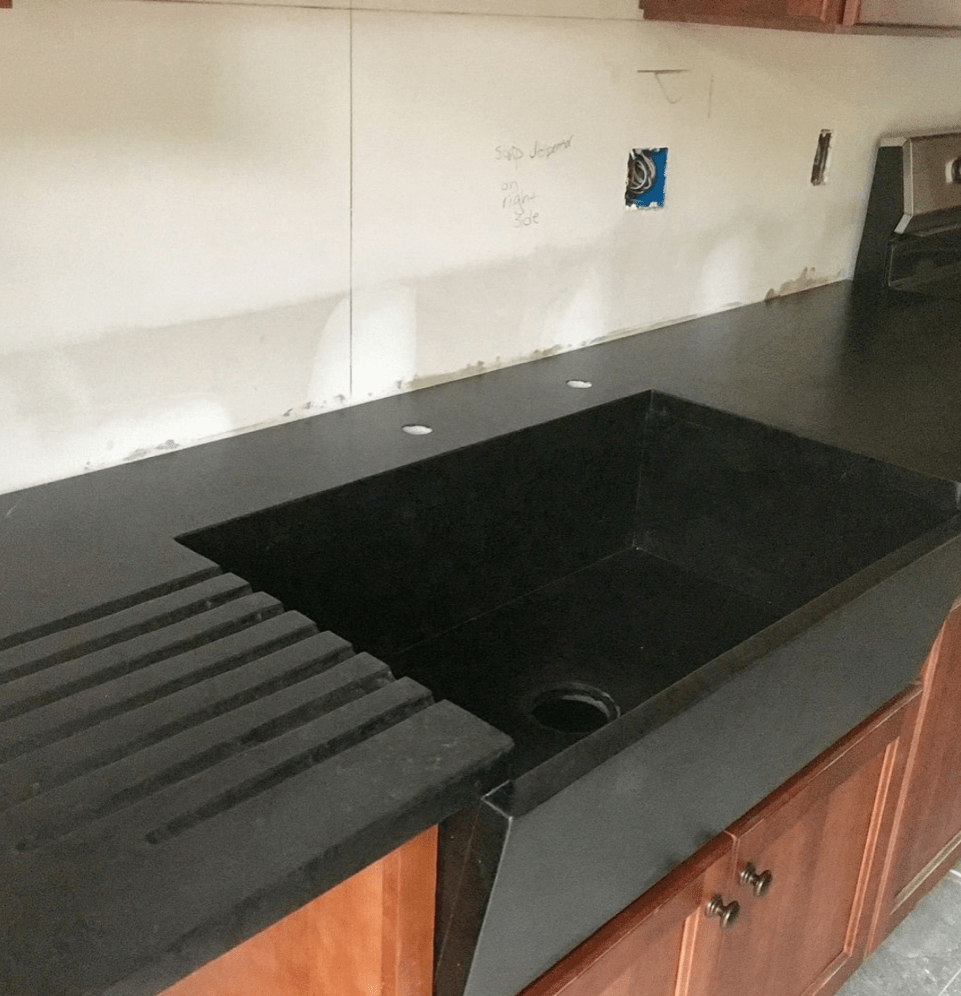 Patio
Arrange your soapstone kitchen sink right next to the grill to wash fresh vegetables and prepare anything you need for dinner that evening. The natural stone blends in well with the nature around in but stands out with its usefulness and edging details. You never have to worry about damage from the elements, and the stone only looks better with age.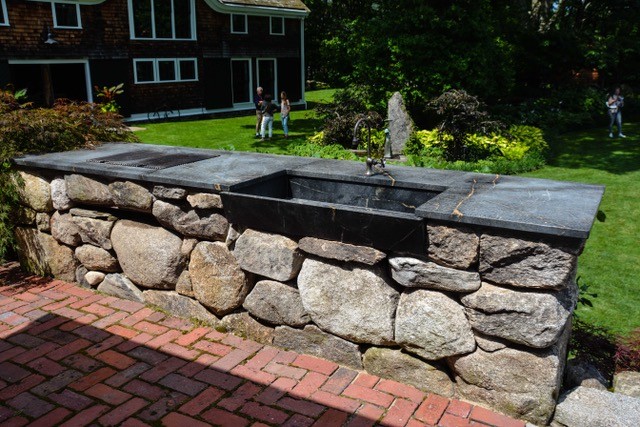 Source: Thinking Outside the Boxwood
Why Choose a Soapstone Sink?
Now that you've had all the inspiration for how a soapstone sink can look in your space, here are a few reasons you should choose one for your next project.
Low maintenance: Especially when left outdoors, the natural patina will shine through and rarely require oiling. Because soapstone is a non-porous and naturally antibacterial stone, the sink is easy to clean and will not require any protection from snow, ice, or rain.
Quick repair: Don't worry about scratches or dings with traditional soapstone! They can be easily sanded away and oiled like they never happened. Or don't worry about repairing the scratches and let the soapstone age gracefully.
Complete customization: With a soapstone sink, you can choose the dimensions, shape, decorations, depth, width to design your custom size.
Ready to start designing? Call Garden State Soapstone today to create a beautiful soapstone sink for your home.