Organic Wax and Oil
Garden State Soapstone ™ developed and makes our very own organic wax and oil for your soapstone countertops. While very few customers prefer leaving their soapstone untreated, we highly recommend treating your soapstone to increase the aging process, and beautify and enhance your soapstone as well.
Here's why.
Soapstone comes from the ground in lighter shades of gray or black. Over time, soapstone will age and darken. Aging causes the soapstone to patina and darken.
Without waxing or oiling, the aging process becomes uneven. The soapstone may appear blotchy and dark in some places and light in others. While this is the natural patina, it's generally not preferred.
Waxing and oiling increases the aging process of soapstone, which will darken, and patina at an evenly. It enhances the natural tones and veining patterns, making your soapstone countertop stand out. The soapstone looks uniform throughout.
Wax and Oil is not a sealer. Soapstone does not need to be sealed due to its natural impermeability and heat resistant-qualities. Instead, our organic wax and oil simply ages the soapstone and enhances the beauty of the soapstone.
Applying Organic Wax and Oil
With a clean, soft cloth, apply Garden State Soapstone ™'s organic soapstone wax or soapstone oil in a circular motion to the entire countertop. With a second, clean, soft cloth, buff the entire countertop until it feels dry to the touch.
What Makes Our Organic Wax and Oil Unique
Unlike other brands of soapstone products that use petroleum-based oils, we use completely safe and organic ingredients.
    •    A completely food-safe blend of natural oils and waxes including: Grapeseed Oil, Safflower Oil, Elderberry Fruit Extract
•    Food grade ingredients, safe for food preparation surfaces
•    Eco friendly and 100% natural
•    Our soapstone wax & soapstone oil permanently darkens soapstone
What You'll Notice
In the first six months after installation of your soapstone, you will need to wax and/or oil more frequently to age or darken your soapstone. The more you wax and oil, the faster your soapstone will age or darken. Over time, you will not need to wax and oil as frequently.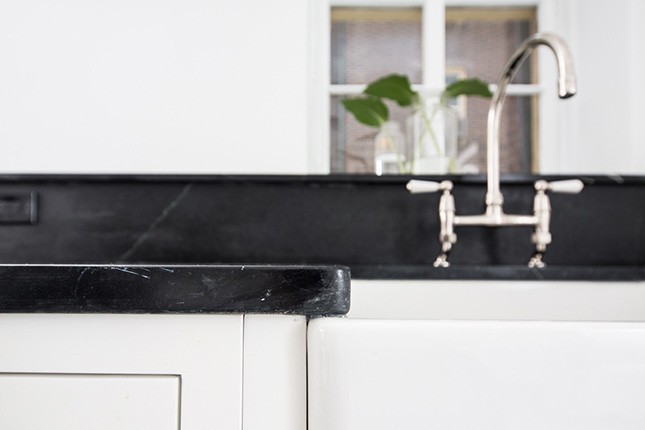 Learn More