After a long New Jersey winter, there's nothing better than enjoying the sunlight and eating outdoors. Keep your friends and family out of your kitchen by bringing the kitchen outside! Outdoor kitchens, complete with prep countertops and sinks for washing fresh produce, help you enjoy the entire process from your patio.
Why Soapstone Is Best for the Outdoor Kitchens
The same properties that make soapstone our favorite indoor countertop, make it great for an outdoor kitchen, as well. The non-porous material won't absorb any of the outdoor elements such as leaves or rain, and any scratches or "wear and tear," if any, can easily be restored with 120 grit sandpaper.
The thermal properties of soapstone help it survive the winters outside, despite freezing and thawing. The stone heats and cools slowly, so it won't crack in these temperature changes. Families also use soapstone tiles in their outdoor space or around a pool because the stone will not be slippery when wet.
Unlike granite or marble, you don't need to chemically seal soapstone to keep it non-porous: we only recommend our custom wax or oil on soapstone to reveal its natural patina.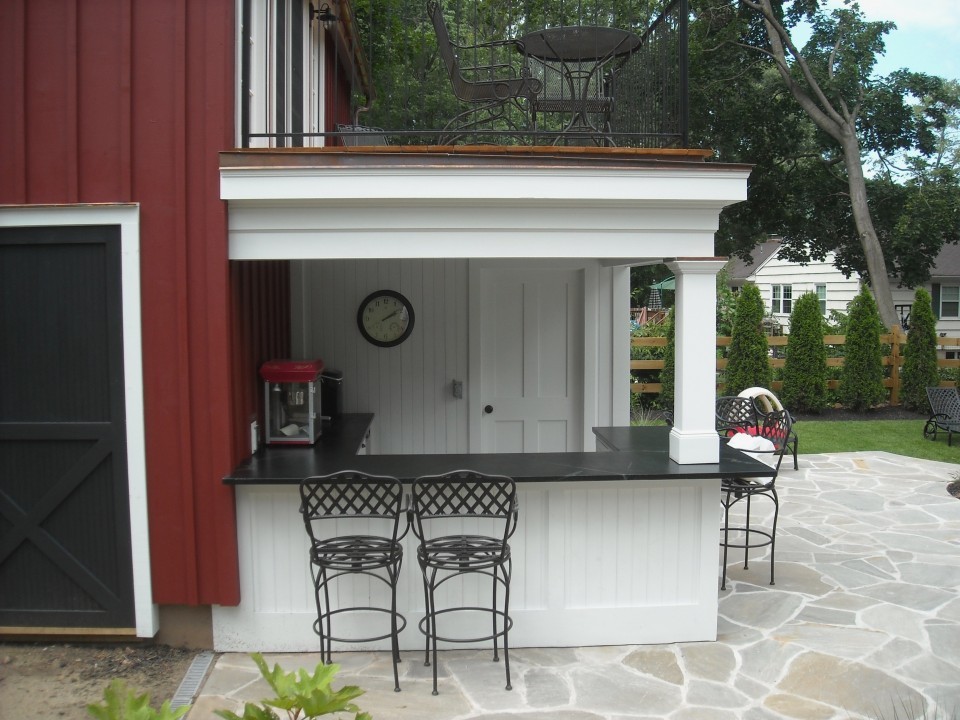 Outdoor Sinks
While this will require some plumbing work, you'd be surprised how useful an outdoor sink is in your new space. You can prep the food right next to your grill and clean up all in one place, without running back and forth through your sliding door. That also means you can stay outside with your guests the whole evening.
Even if you don't need it for food prep – fill the sink with ice and make it a cooler!
Both soapstone and slate can be easily customized to the dimensions of your outdoor space, and both hold up to weather conditions better than stainless steel.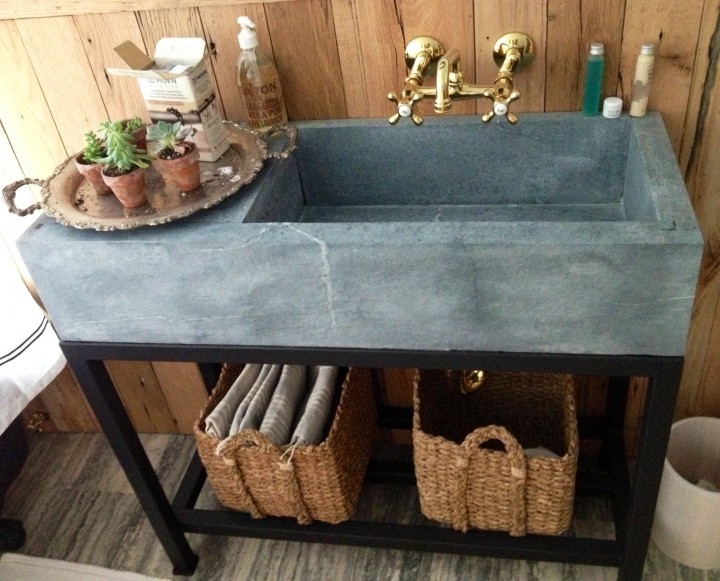 Outdoor Countertops
If you're preparing food outdoors, you'll need to consider your countertop space. Make sure you have at least a three-foot length with two feet of depth, so you have enough room to work. Natural stone is always the most popular for outdoor countertops, because a manufactured top might fade or crack in the elements.
Marble absorbs spills from wine or pizza grease, and the veining in granite may not stand up against UV rays.However, soapstone tops the list with its durability, resistance to acidic foods (slicing lemons for iced tea?), and colorfastness.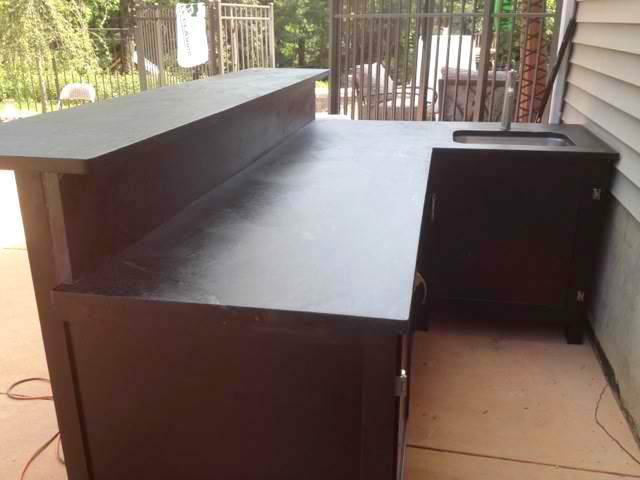 Consider Slate for Your Outdoor Kitchens
We mentioned using slate outdoors in a recent post,and this stone is another great option for outdoor kitchens. Especially popular for tiled areas and walkways, slate makes a great impression but remains easy to maintain throughout the entire year.
Slate comes in a variety of colors to match your home style, and the dark color will not fade in the sun.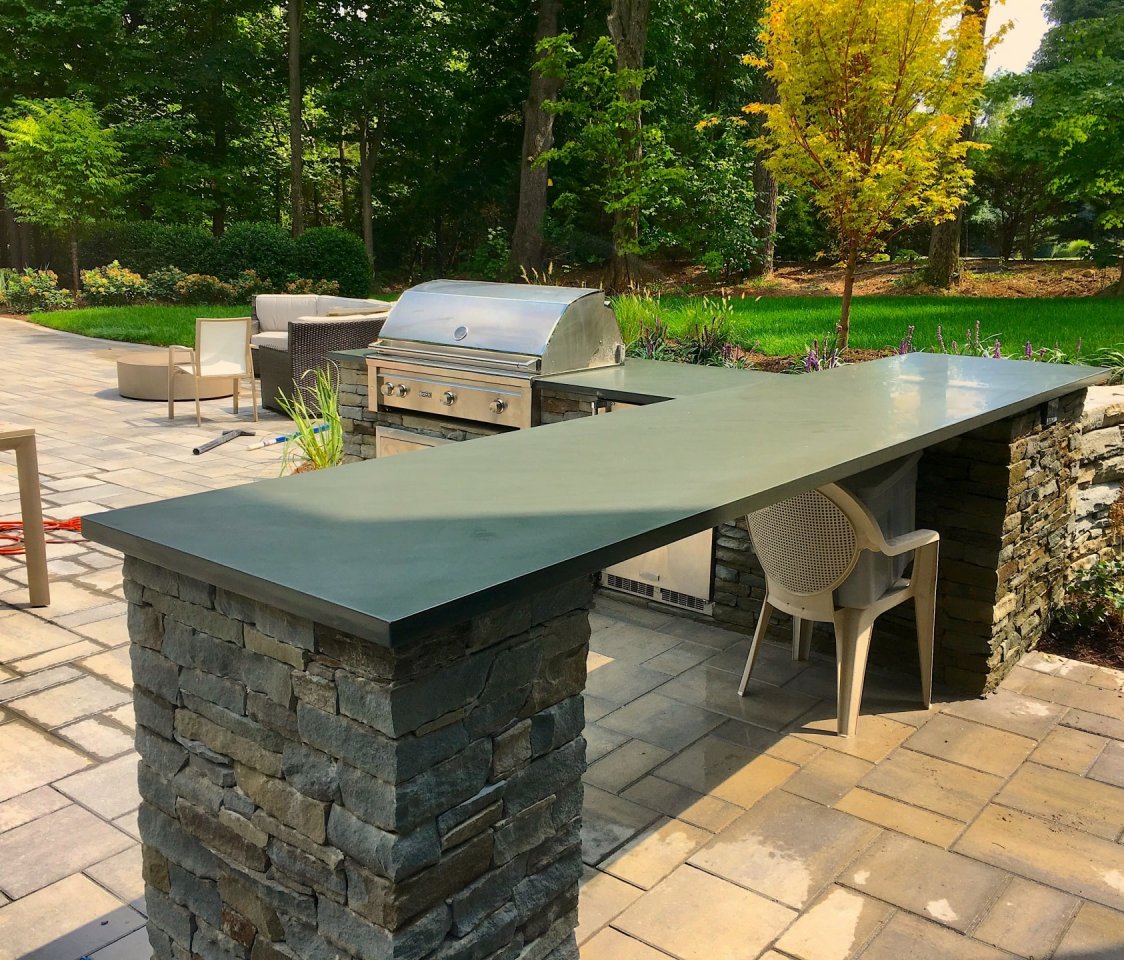 Caring for Your Kitchen Off-Season
Daily maintenance of soapstone couldn't be easier – simply wash with mild soap and warm water. While you have less to worry about with a non-porous surface, you should still wipe down after every use.
During the off-season, you do not even need to cover the area with a tarp to protect your investment. Because of the durability of the stone, your biggest concern will be caring for your grill and patio furniture.
Need more ideas for your outdoor kitchen? We mention some style options over in this post. No grill is complete without one of our pizza stones!