The holiday season is easily the busiest time of year for most families. Between Thanksgiving, school concerts, and corporate holiday parties you might feel like you're not getting a lot of time at home. But you're probably spending some time in the kitchen.
Whether you pull out the baking supplies to make cookies for your coworkers, or you plan to spend the week of Thanksgiving preparing for the family meal, something about the last few weeks of the year sends us to our kitchens more than any other time.
Stock Seasonal Necessities
If you know you'll be participating in a gingerbread decorating contest or cookie exchange, you'll need to stock up on a few seasonal baking items, so you don't have to run to the store every week.
Cinnamon Sticks & Candy Canes
Add flavor to tea or apple cider by throwing in a few cinnamon sticks. This simple addition makes every beverage look put together and ready for Instagram without any effort. Not to mention, they smell amazing!
Keep a few candy canes in your kitchen to crumble as a topping for chocolate brownies, cupcakes, or even hot chocolate. If you display them on your countertop, they also serve as decoration for the holidays!
Sprinkles
Nothing dresses up the ordinary baked goods into holiday treats like seasonal sprinkles. Whether you want fall leaves for your Thanksgiving desserts, or red and green sprinkles for some simple Christmas cupcakes, pickup or order a few small packs of sprinkles to make the easiest recipes festive.
Favorite Drinks
Keep apple cider in your fridge for fall and eggnog for the transition to Christmas. Not only do many seasonal recipes require these as an ingredient, you'll be ready to be hospitable at any time – which is the heart of the holiday season.
Make sure you serve some sparkling apple cider at the kids table, too, so they can embrace the holiday spirit!
Decorate with Scents of the Season
While decorating your home for each holiday is probably part of your family's traditions, finding ways to simplify can make a busy season less stressful for everyone.
Feel festive without too much extra clutter by lighting candles or diffusing essential oils throughout your home! By "decorating" with scents, you guests will be in the holiday spirit as soon as they walk through the door, without the bundles of leaf garlands and glittering ornaments.
Give Sustainable Gifts
As you plan your holiday gift giving this year, thoughtfully consider gifts that won't add waste or clutter to your friends' homes. In order to do this, you might find yourself in your kitchen again.
Start by making a list of friends that you'll be visiting and gift exchanges you're part of. Then, instead of spending an evening trekking around home décor stores, spend the evening with your family baking some treats or decorating cookies. You might need to add a gift card to get the gift up to the dollar minimum, but your friends will appreciate that you handmade them something special (and baking was easier than learning to knit).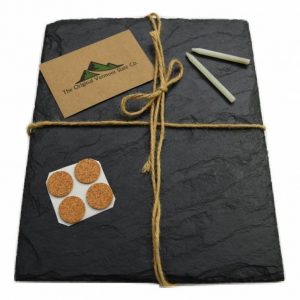 If you think the recipient will not want something edible, look for usable and natural gifts. A handmade soapstone pizza stone holds its heat better than the store-bought version, and teak or slate cheeseboards will be useful throughout the season of parties and hosting family.
Clean Quickly
Because hospitality and generosity are the words of the season, you need your kitchen to clean up quickly and be ready for whatever life throws at you.
With a soapstone countertop, you don't need to worry about harsh chemical cleaners in your kitchen. The natural stone is anti-bacterial and non-porous, so you can clean simply with soap and water. Our soapstone wax and oil ages the counter evenly, also without harsh chemicals.
Thinking about buying a new countertop that will "wow" your guests this holiday season? Call Garden State Soapstone to learn how a soapstone countertop is one way to prepare your kitchen for your year-end festivities.