If you're considering a farmhouse style kitchen in your home,
soapstone creates the perfect rustic texture you're looking for. In fact, when you scroll through images of "farmhouse kitchens," you'll see several soapstone counters and sinks throughout. What elements of the farmhouse style makes it a perfect match for soapstone?
Large, Apron-Front Sink
When you walk into a farmhouse kitchen, the large sink makes the statement in the space. With its deep single basin and wide dimensions, homeowners love that they can wash any size pot, pan, or even their dog in the sink.
Soapstone can be shaped into anything because of its softer properties, making it an easy choice for sink design. Many kitchen designers choose the same soapstone for the counter and the sink, and we shape a sloped drainboard leading into the sink for easy cleaning. Some homes have a soapstone sink in their garden area because of the rustic style, but that fits right into a farmhouse kitchen.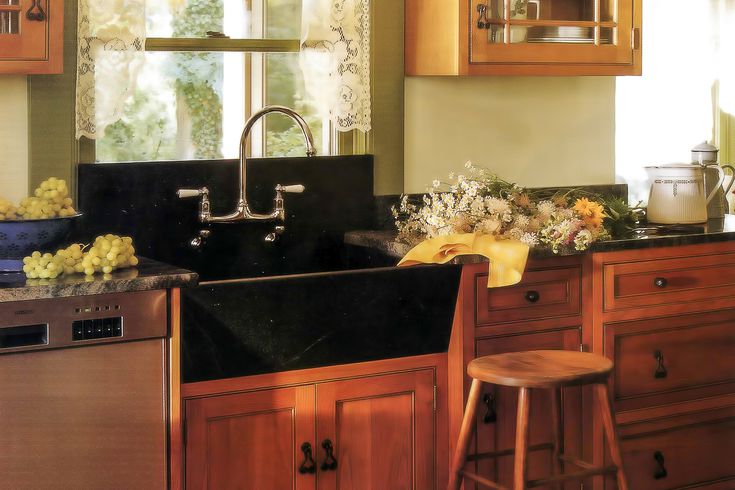 Wear & Tear Adds Authenticity to a Farmhouse
You'll see plenty of salvaged, aged, or antique elements in a farmhouse kitchen – those features bring part of the charm. Many designers suggest salvaged wood pieces or a wood countertop to add that piece of authenticity, but soapstone works well for this characteristic, as well.
With the natural patina of soapstone and the scratches that appear over time, your kitchen will begin to tell the story of your family and the warmth inside. Farmhouses are a place of work and comfort, and soapstone reflects those activities through its own natural wear and tear.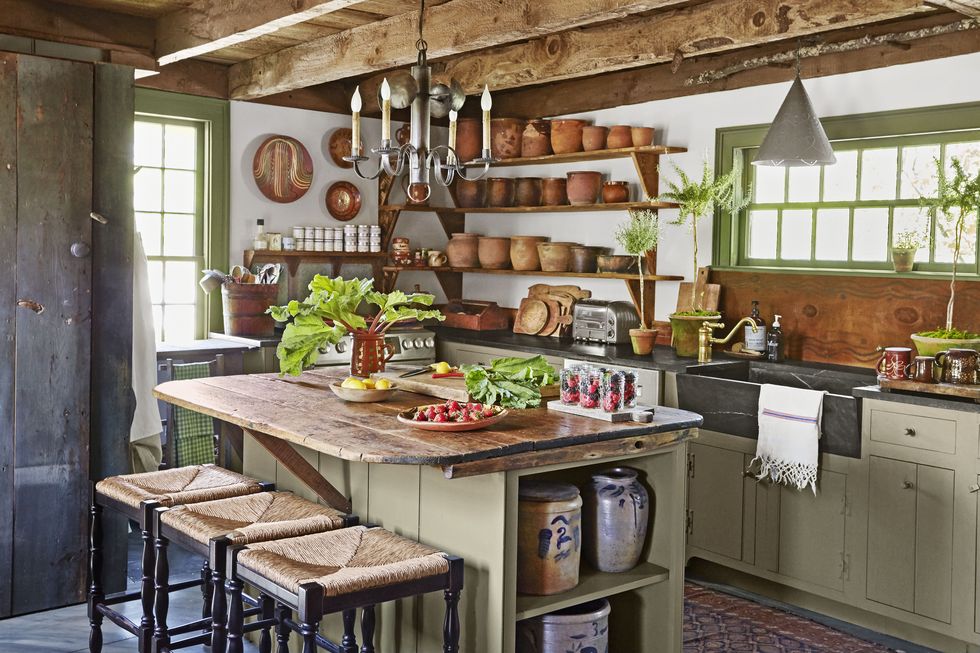 Variety of Textures
Because of the neutral color palette in a farmhouse kitchen, designers lean towards multiple textures to add interest instead of bright colors. With the velvet-y touch of soapstone, your countertops or sink will provide another layer of texture. You can always combine the black or grey of soapstone with wood or marble features for more neutral, but elegant combinations.
Simple, Organic Materials & Colors
The farmhouse colors stick to whites, greys, linen browns, and sage green. These make a great backdrop for the fresh flowers and produce from the garden that naturally brighten your kitchen.
Organic materials can be wood cabinets, chairs, or accent pieces, but also show up as natural stone countertops or tile flooring. Some slabs of soapstone have more veining than others, making it right at home with your design preferences. The easy cleanup of soapstone helps you achieve other clean home goals with non-toxic cleaners, so you can you live a simpler life.
Black Accents
Because of the focus on light neutrals throughout the farmhouse style, black accents stand out perfectly without being stark. Of course, with our natural wax and oils applied, most soapstone appears black and looks great in contrast with popular white cabinets and walls.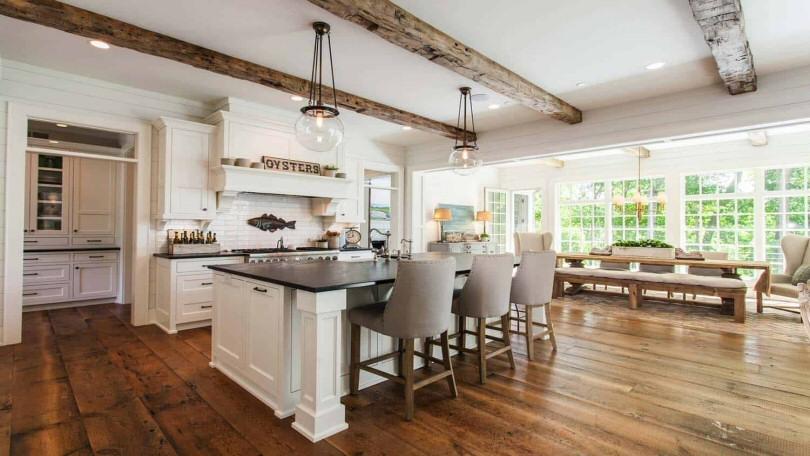 Your Farmhouse Kitchen Stands the Test of Time
Another reason to embrace an authentic look is a desire for pieces to stand the test of time. By upcycling and repurposing other elements in your kitchen, you're bringing new life into a space. Soapstone is extremely durable, remaining beautiful and usable in your space and long after you move out. We've heard stories of families refinishing an old soapstone sink to make it work in a new kitchen. This durability is the heart of the rustic farmhouse style.
For more information on using soapstone for your kitchen remodel, contact jay@gardenstatesoapstone.com to visit our showroom.