Sinks are one of the most used pieces in your kitchen. You pile them high with dishes, scrub vegetables clean, and rinse off the day's projects down the drain. Whether you're looking for a classic style or a new take on this useful piece, soapstone sinks fit in anywhere.
Completely Customizable Soapstone Sinks
Because soapstone is a softer stone, your sink can meet any dimensions you need. If you have a smaller or larger sink area than a typical kitchen, your sink can be the exact dimensions required. You can also install the perfect faucet fixtures because any shape can be drilled into the soapstone easily.
Whether you know you wanted a larger-than-average sink, or you're remodeling a kitchen with unique specifications, a soapstone sink will fit perfectly.
Slate sinks also have customization options and the same durability that we love about soapstone.
Popular Soapstone Sink Shapes & Details
While a soapstone sink can be customized entirely to your tastes, we do have a few styles that homeowners choose again and again.
Apron-front
The apron-front sink is easily the most popular shape, even in soapstone. The dark color already stands out, but it also works in rustic or modern homes. While a white ceramic apron-front sink may seem best suited for a cozy farmhouse kitchen, homeowners can enjoy the benefits of the large sink in a sleek design, as well.
Basins
Basins get the most use in a bathroom, but also demonstrate the versatility of soapstone. You can achieve any shape, whether you want a vessel sink or a set-in basin with your countertop.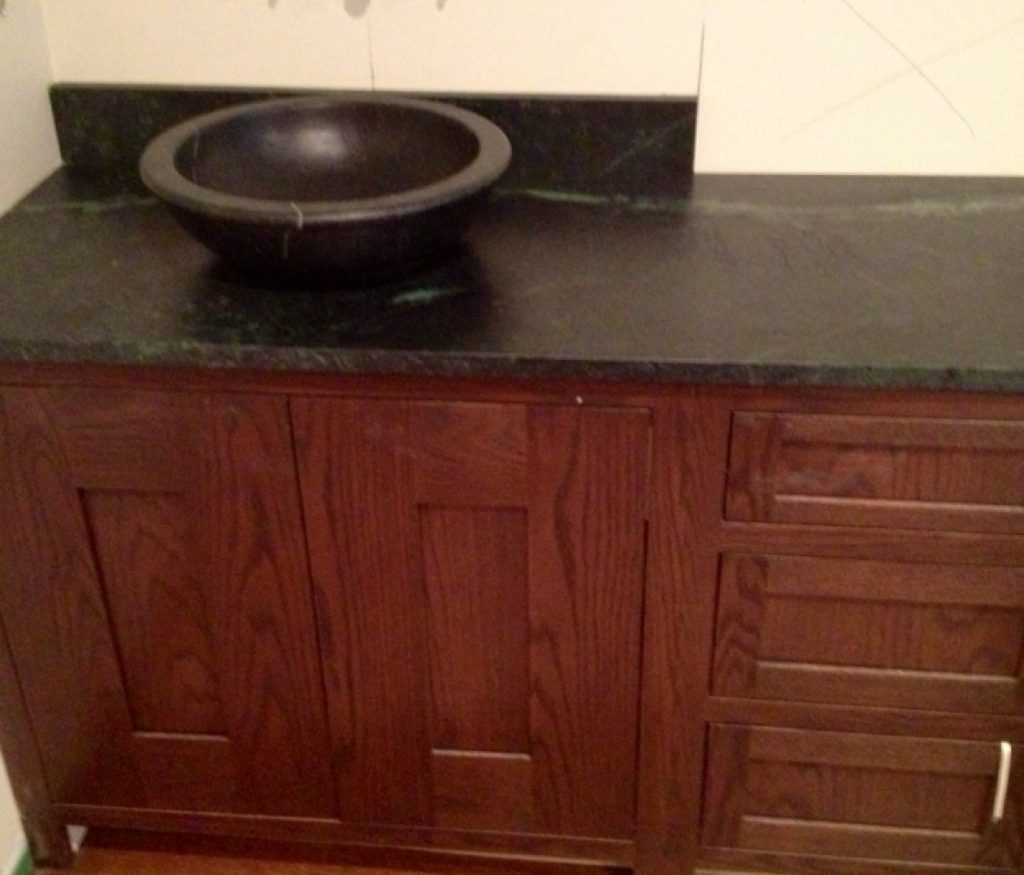 Counter/ Sink Combination
Some designers make a contemporary and dramatic countertop that flows into the sink. Where the room has enough contrast with white cabinets or a wood bar, the matching countertop and sink seem to blend together as a single surface. The room has a simple look with the quality and craftsmanship you want in a custom kitchen.
Drainboards & Edging on Soapstone Sinks
One of the unique and fun details about a soapstone countertop is the custom drainboard into the sink basin. Not only practical but a beautiful feature that makes cleaning up the kitchen simple. You can also customize the design or edging on your apron-front sink, because the stone is soft Whether you want a beveled edge, crisp, or a more elaborate style element, soapstone will give you that option.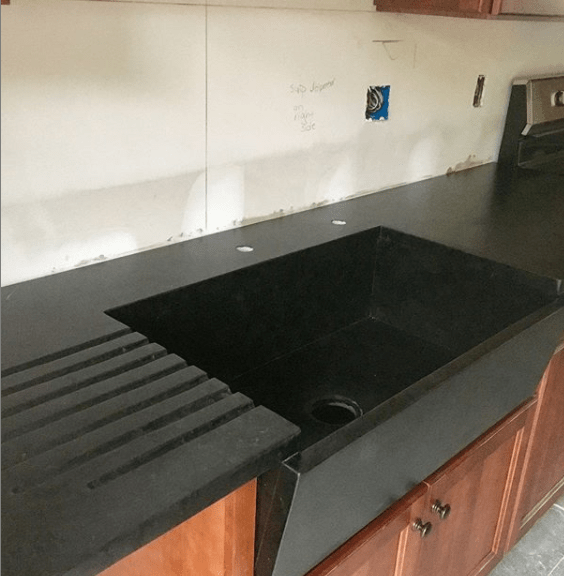 Mix & Match Soapstone Sinks with Countertops
Homeowners and designers also love the option to mix a soapstone sink with a contrasting countertop. Instead of a stainless steel or ceramic sink, they can install a sink with custom dimensions to complement the marble, quartz, granite, or another countertop they already have in the home.
Classic or Sleek Soapstone Sinks
As we mentioned earlier, the soapstone sink can be work in any kitchen, rustic or modern. With softer, rounded edges, it becomes better suited for the farmhouse style kitchen. With crisp edges and dramatic lines, they fit in perfectly in an upscale New York apartment.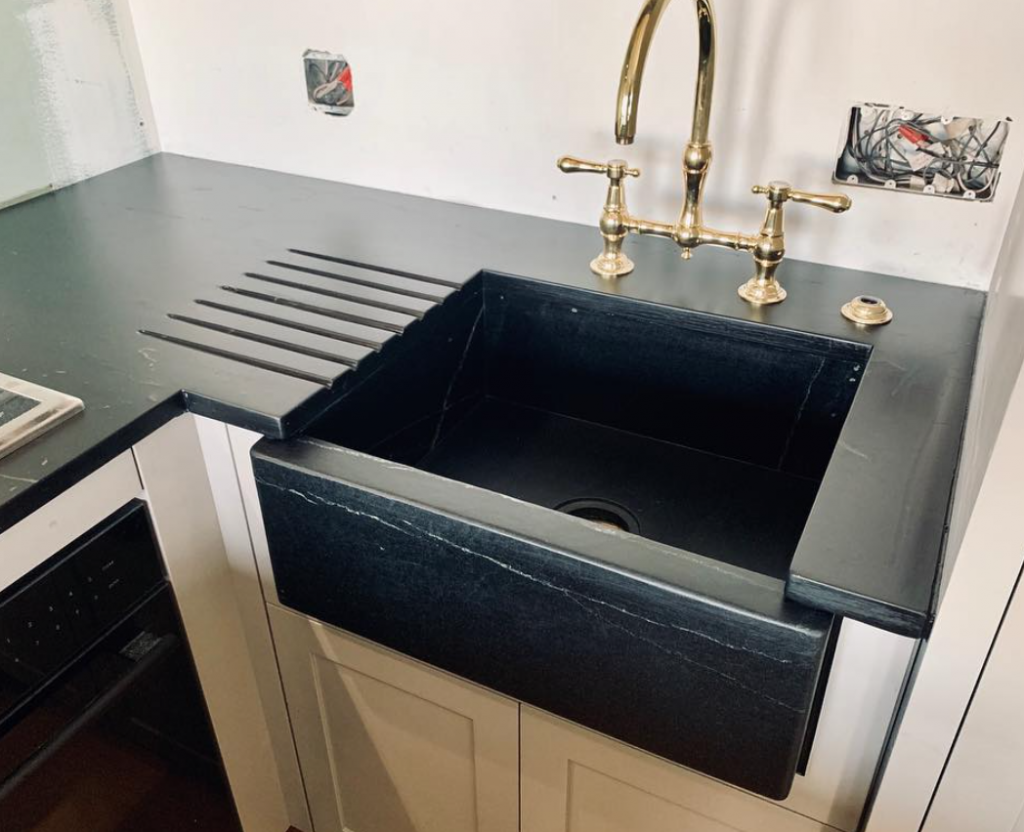 Great for Bathroom or Kitchen
Don't miss an opportunity for a dramatic sink in your powder room, by incorporating a custom-built vanity and sink. With faucet holes drilled on-site, you'll have the exact piece you need to make a big statement in a small space.
Caring for Your Soapstone Sink
Soapstone sinks require very little maintenance, but you should keep a few elements nearby to keep it looking its best for years to come.
Wax or Oil the Exterior
Soapstone does not need to be sealed, but we do recommend our natural wax or oil to age the surface at the same rate. The interior of the sink does not need to be waxed as frequently, because the exposure to soap and water will darken the stone naturally. To keep the exterior the same color, you should apply a wax or oil once a month.
Keep Sandpaper on Hand for Scratches
While we love the softness of soapstone for its customizable options, you may see more scratches and dents with a high-use surface like a sink. These are easily repaired with super-fine grit sandpaper. Simply sand over the scratch, apply the oil, and your sink will look new.
Watch Your Soapstone Sink Age Gracefully
The durability and anti-bacterial nature of soapstone make it a great choice for your kitchen, and as the natural patina develops over time, the sink will add warmth and softness to your space.
If you're ready to customize your soapstone sink, call Garden State Soapstone Slate & Wood Countertops to walk through the showroom and start planning.