Homeowners and designers love the versatility of natural stone throughout their home, and soapstone is one of the most versatile. Unlike granite, which has a distinctly contemporary feel, soapstone has a place in nearly every home décor style. What's your style? Where have you seen soapstone work well?
Keep reading for inspiration!
Farmhouse
Because of the unique, soapy texture, traditional soapstone is a favorite for rustic farmhouse décor. The stone naturally develops a darker patina over time (accelerated with soapstone wax or soapstone oil), and you can choose not to repair any scratches for an authentic or organic look.
Don't forget to include a custom apron-front farmhouse sink made from soapstone to put the finishing touch on your kitchen and give you plenty of space to clean up after baking or cooking.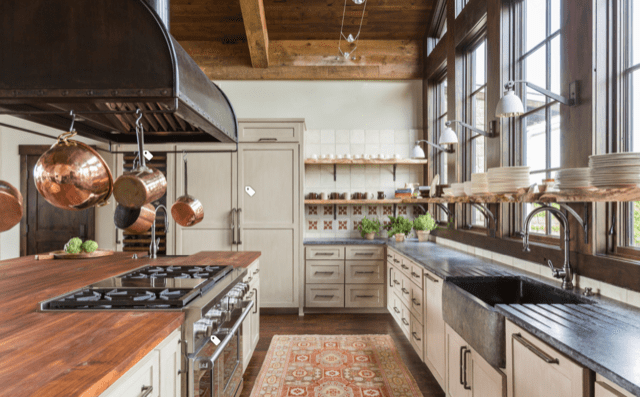 Modern
The modern style or mid-century modern emphasizes simplicity and function instead of the decorative features of traditional homes. Often, modern homes use natural wood and stone for furniture, with pops of color mixed in.
Soapstone fits well in this style because it adds to the warmth of the kitchen and can be as simple and sleek as you need it to be. This natural stone can be a great option when restoring a 50s home because it maintains the aesthetic with more durability than the options from that time period.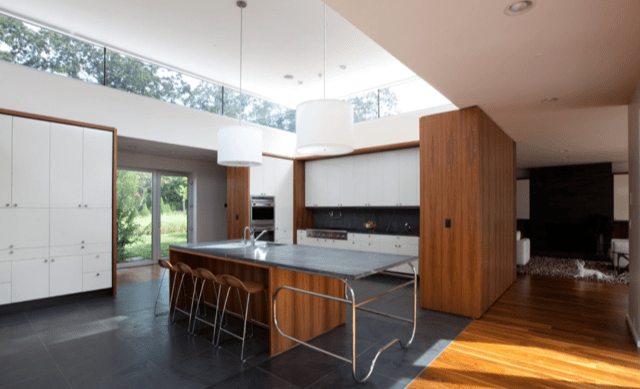 Traditional
Details like ornate trim work and natural wood characterize the traditional kitchen, and soapstone fits right into that décor, too. Many times, traditional kitchens use natural brown wood tones instead of painted white, and dark countertops add to the classic look. You'll also see raised paneling in the cabinets adding to the luxurious, formal feelings.
Because soapstone is soft, it can easily be customized with its own trim detail on the edges to match the rest of the kitchen. Incorporating a large soapstone sink with brass fixtures adds to the luxury.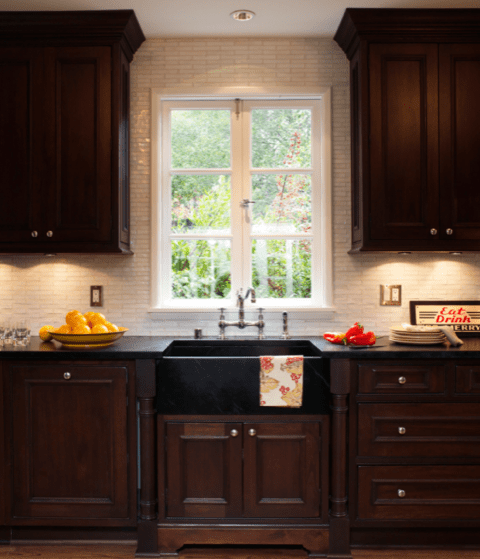 Contemporary
How is contemporary different from modern? Contemporary usually means whatever the style is right now before it necessarily has a name. Sometimes it can feel like a mix of styles, and you might only recognize the distinguishing features when you look back on it.
Soapstone obviously looks great with the trends for 2021, as well. We're seeing it paired with shaker-style cabinets or Craftsman trim, gold fixtures, and subway tile. In all-white kitchens, a black or darker countertop can be a contemporary contrast.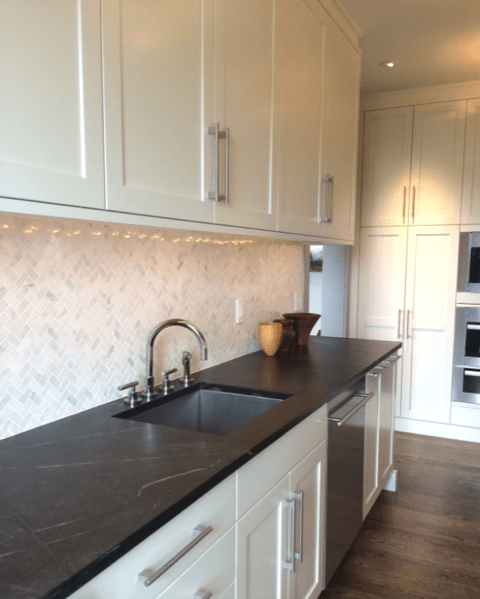 Make It Your Own
No matter your personal style, soapstone can fit into your kitchen and add value to your home for years to come. Because soapstone is so easily customized, you can add as much or as little detail as you want. Some homeowners choose beautiful carvings for the apron front sink to look more formal or a chiseled edge to the counter for a rustic touch. Adding runnels or drainboard to the countertop adjacent to the sink adds a decorative but functional element.
Because it works with all décor styles, soapstone will stand up to the trends in the future and hold its value no matter how your tastes change.
Ready to discuss all the different options available? Call Garden State Soapstone today and request a tour of our showroom to learn more. We're looking forward to creating your dream kitchen!