Choosing tile for your kitchen or bathroom renovation can be a daunting task with every color and pattern available. But have you considered soapstone tile for your new space? The dark color grounds the kitchen or bathroom, creating a sophisticated base for your cabinets and appliances.
Benefits of Soapstone Tile
If you've researched soapstone at all, you know about its anti-bacterial, non-porous properties that make it appealing for countertops. This stone has even more great qualities when you start considering it for your next flooring project.
1. Non-slip surface when wet
When shopping at a tile store, they will probably show you a pair of complementary tiles – one for the wall and one for the floor, because the floor tile needs to be non-slip (and usually a larger square). However, soapstone is always safe for the floors when wet. Inside a shower, you can use the same tile on a wall and on the floor because soapstone tile will never be slippery.
2. Keeps toes warm
We talked about the thermal properties of soapstone in our pizza stone post, but these features work especially well when combined with in-floor radiant heat systems. The stone will not crack due to sudden temperature changes, and it naturally holds heat better than other natural stone tiles, keeping your space warm for longer and feeling amazing on your feet. We know you'll love another element of efficiency when heating your home!
3. Unique Look
The natural, minimal veining in soapstone tile makes it unique from other stone options on the market. It's much more durable than marble but has the same natural interest you're looking for. The dark color only ages beautifully over time, and any scratches to your flooring are part of the graceful aging process or easily repaired with sandpaper and our custom soapstone wax or oil.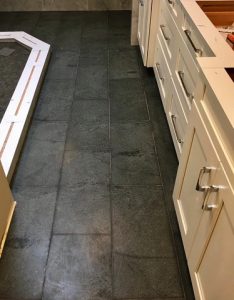 Soapstone Tile vs. Ceramic Tile
First of all, ceramic tiles will never be a completely natural tile option. The tiles are made from clay and then hardened in a kiln, with different temperatures indicating the level of hardness and durability. While a glazed ceramic tile will be waterproof and stain resistant, it's hardly comparable to the natural stone look of soapstone.
Ceramic tile can withstand harsh chemical cleaners on the surface. However, soapstone is naturally anti-bacterial, so you won't need those cleaners on this tile.
Soapstone vs. Other Natural Stone Tiles
Soapstone holds up better than comparable natural stone tile options, such as granite, limestone and sandstone. All of these need to be sealed to remain waterproof and stain resistant. Slate tiles are naturally waterproof and stain resistant, but most do not have the characteristic veining found in soapstone.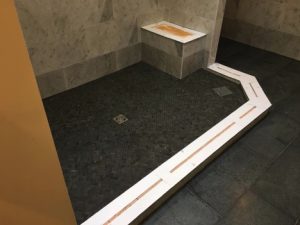 Indoor & Outdoor
The durability of soapstone tile also makes it a great option for outdoor patio areas. The rain and snow will not affect the surface, and it won't fade from sunlight in the summer or stain from leaves in the fall.
Indoors, you can use soapstone for beautiful backsplashes in the kitchen or detailed shower patterns. We love this subtle and natural way to dress up a space.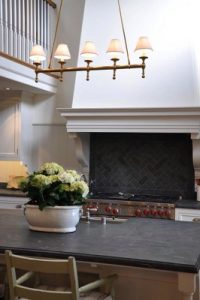 Call Garden State Soapstone ™ Today
For more information on soapstone tile installation or maintenance, get in touch with Garden State Soapstone ™ for service in the tri-state area and beyond!